The following report is now a complimentary offering from MEMRI's Jihad and Terrorism Threat Monitor (JTTM). For JTTM subscription information, click here.

On October 2, 2017, the Islamic State (ISIS) news agency A'maq claimed responsibility for the previous evening's deadly shooting attack at a country music festival in Las Vegas, in which over 50 people were killed and several hundred were wounded.[1] Police identified the attacker as 64-year-old Stephen Craig Paddock. Subsequent posts on numerous ISIS-affiliated Telegram channels noted the ISIS claim that Paddock was a recent convert to Islam. In the hours after the attack, and following the A'maq Agency claim, there have been many celebratory posts on pro-ISIS social media accounts on platforms such as Telegram, Facebook, and Instagram. The following report will include some of the reactions to the Las Vegas attack.
A pro-ISIS channel named Las Vegas USA is dedicated to celebrating yesterday's attack, criticizing President Trump, and issuing further threats. One graphic shows an image of President Trump waving on one side, and the other side of the graphic shows the aftermath of an attack. The quote featured in the graphic reads: "The so called President Trump can't help you survive, you should be scared, long night is coming Americans, either you submit willingly or be prepared for your men to be slaughtered and your women enslaved."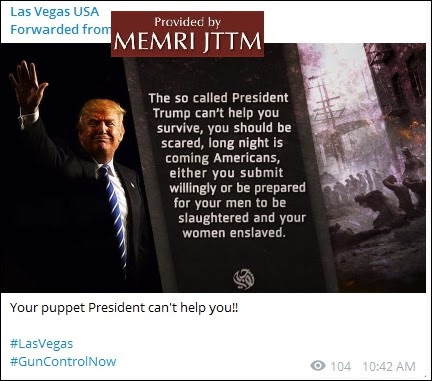 In another post, the Telegram channel posted an image of Paddock with the caption: "O' Lion of Tawhid [monotheism], May Allah Accept from you. You will be long remembered as the lion who avenged for his brothers."
A series of posts from the channel reads: "Wishing now your Puppet Presidents stopped interfering in Muslim countries!!
"Take this what happened in #Orlando & #LasVegas was a taste of whats coming…
"America has sunk and there is no savior, and became a prey to the caliphate in every corner of the earth.
"Know that #IslamicState won't stop fighting you in every Corner of the globe until you accept Islam or Pay Jizyah [poll-tax on Non-Muslims] with Submission.
"O' American People: You chose your own president, your Taxes money supported your army that killed Muslims, because of that you are a legitimate target for us."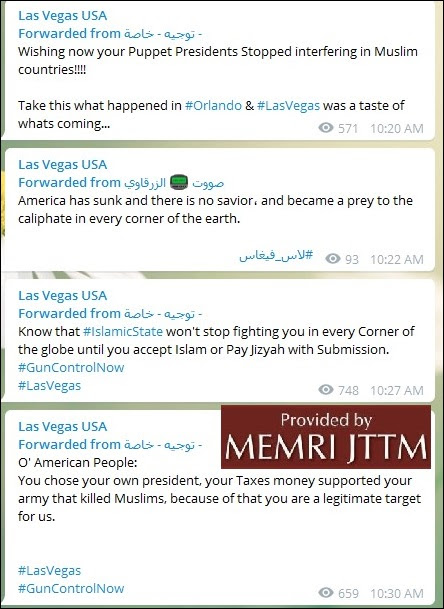 Another graphic from the channel has a message in Arabic stating: "The Just terror… You claim [to uphold] justice, then we have to implement Allah's justice on you. It is either death or paying jizyah [tax] with humiliation."
A graphic reading: "Islamic State The Caliphate USA Licking Her Wounds In Las Vegas" has been circulated on numerous pro-ISIS Telegram channels.
In a conversation in the Telegram channel Muslim Tech Deen, Ya'qoob al-Kurdi stated: "Allahu Akbar I thought it was a silly white guy." Azizz Hamdan replied: "It is a white guy, but not so silly after all."

A message in al-Karrar stated: "So what are you waiting for brothers? You complain doors of hijrah are closed! What's stopping you from opening doors of jihad in your cities? Can't you kill a kafir [infidel] steal his car & run over the other kuffar? Can't you stab a kafir with a knife? Can't you crush his skull with stones?"
Al-Karaar circulated a graphic that reads: "Islamic State The Caliphate USA Where is your security? In Las Vegas A Single Mujahid Look At What He Has Done To You." An additional caption reads: "What now Trump? You tweeted UK had attacker in sight, what about your agencies in your backyard?"
Another graphic shows Belgian ISIS fighter 'Abd Al-Hamid Abaaoud, aka Abu Umar al-Baljiki.[2] The quote reads: "Oh Crusaders We Are Everywhere Soon Is the Next!" An additional caption asks: "Who is Next? Austria? Australia? England? Who?"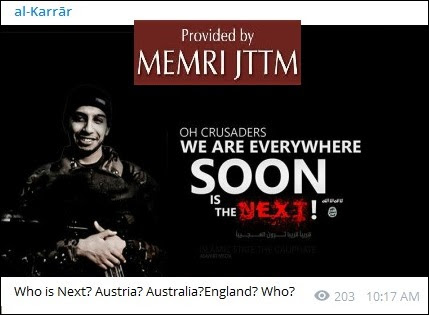 Another post in the group states: "What Now Trump? You banned 'Radicalized Muslims' from traveling to America! Allah sent his soldier from within your people."
https://fitnaphobia.com/wp-content/uploads/isis-las-vegas-e1506976929775.jpg
380
640
Dr.Rich Swier
https://fitnaphobia.com/wp-content/uploads/logotext_white_312x71.png
Dr.Rich Swier
2017-10-02 16:42:19
2017-10-02 20:21:23
ISIS Supporters Rejoice Las Vegas Attack: 'Allah Sent His Soldier From Within Your People'